Laser F/X On-line Newsletter - Special Reports


Friday, May 28 1999
More laserists started to arrive at our studio. We put them to work on the traditional Friday night job of organising the conference. There were badges to print and laminate, strings for the badges to be cut, goodie bags to stuff and a host of other small tasks to get ready for the big day. They enjoyed themselves a great deal discussing the fine technical details of lasers while working away on the preparations. Special thanks to Mark Schweter , Rob Mudryk, Michael Svob, and Karl Rothweiler for their assistance with the prep work.
| | |
| --- | --- |
| Mark carefully cuts the passes | Karl Stuffing the "Goodie Bags" |
The announcement that 60K scanners would be demonstrated at the conference led to a lot of discussions and speculation on this advance in scanner technology.
The Crew
A conference with over 70 people registered for various events is almost impossible to run without a good crew. Each year at Laser F/X, professionals work with volunteer crew members who want to gain experience in staging larger shows. This gives the professionals skilled help and allows the volunteers to work first hand on a complex system with expert guidance.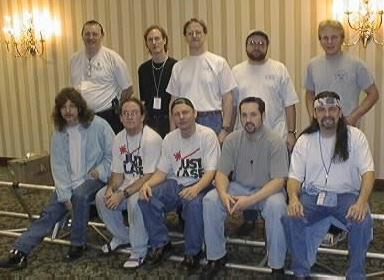 Laser F/X '99 Crew - Photo by John Faith
Back: L. Michael Roberts, Ian, Mark Schweter, Rob Mudryk, Christopher Favreau
Front: Rick Gebhardt, Karl Rothweiler, Hayden Hale, Derek Garbos, Michael Svob
Derek Garbos of New Wave in Montreal was the chief laser technician responsible for providing and setting up the lasers, graphics projector, fibre heads and control equipment. Derek was ably assisted by Rob Mudryk of lasers.org in Ohio, who acted as ADAT operator and helped with the operations of the laser systems.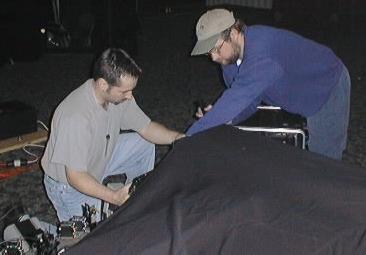 Derek and Rob fine tune the laser system
Mark Schweter of NeoLase provided the head end of the sound system and did all the set-up and operations of the sound and lighting in the laser theatre.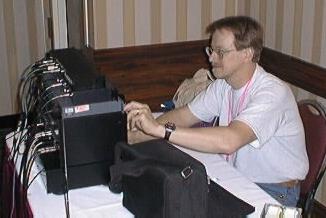 Mark at master control
Eager volunteers Ian Wood of Laser F/X Ontario, Canada; Christopher Favreau of Salem, in West Virginia; Rick Gebhardt of Laser Illusions in Montana; Hayden Hale of Pangolin in Florida; and Michael Svob and Karl Rothweiler of Lazerus' Laser Wizardry in Arizona all worked many hours behind the scenes to set-up and tear down the laser equipment needed for the theatre. Special thanks to the crew and volunteers for all the hard work!
Links - Quick Links to Report Pages
In order to present as many pictures as possible, we have broken this special report down into a number of pages to speed access. Most of these are large pages with many images so please be patient while they download.
Laser F/X '99 Report - Introduction and background
Friday 28 May - Behind the scenes and the crew
Saturday 29 May - Pangolin School and Open House
Sunday 30 May - Trade Show - Trade Show info and pictures
Sunday 30 May - Brewster Awards - The Banquet and entries
Monday 31 May - Seminars and LaserFest
Scanner Wars - Faster than 30K scanners debut at Laser F/X '99
Candid Camera - A selection of 20 photos (very large page)
DISCLAIMER: Some of the information in the Backstage area is provided by the persons or companies named on the relevant page(s). Laser F/X does NOT endorse or recommend any products/services and is NOT responsible for the technical accuracy of the information provided. We provide this information as a service to laserists using the Backstage area.
[ Introduction | World Scan | What's New | Special Reports | Virtual Visits | General Articles | Digest ]