Information and Education - Newsletter
LaserFX.com provides an on-line newsletter in the Backstage area of our web site which was updated as new information became available. The newsletter is no longer updated but the old articles remain offering a look back at the past. The newsletter covered various topics of interest to laserists, experimenters and hobbyists: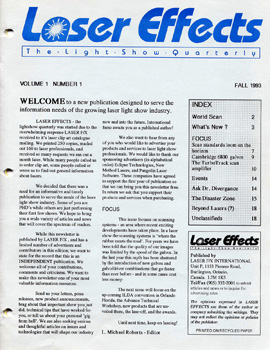 Scan of the front cover of the first edition of the paper version of the newsletter - back in the days before the Internet.

What's New: New product announcements provided by the manufacturers of the product as well as the occasional review of new laser products.

World Scan: News items about laser show technology, installations and special events/shows from around the world as well as social items relating to laserists.

Events: A listing of the upcoming events, conferences and trade shows that would be of interest to laserists.

Special Reports: Detailed articles and coverage of laser conferences and unusual or large scale laser shows with a focus on the technology and equipment used.

Virtual Visits: Articles and photographs from the shop and factory floors of manufacturers and distributors of laser show technology which allow you to "visit" them and get a behind the scenes look at what they do.

Other articles: We are not always serious and focused on the technology. We occasionally publish general interest, humorous laser related articles and "Disaster Zone" articles about shows that went wrong.

Digest: Articles that have been removed from the main newsletter pages are made available in the Digest area so as to provide a resource of older material that may still be of interest.
The on-line newsletter is located in the Backstage area as it is primarily of interest to those working with, or experimenting with laser technology. The newsletter is available to anyone who is interested in reading about laser show technology - Laser F/X Newsletter.
[ Introduction | Newsletter | Handbook | Conference | Brewster Awards | Selected Links ]