Information and Education - Conference
In years gone by, each May laserists would meet at the Laser F/X studio and the Holiday Inn in Burlington, Canada for an international conference featuring lasers, lasers and more lasers in a relaxed atmosphere with great food and facilities. All laserists and laser fans were welcome to attend this event!
Due to the ongoing financial losses incurred by the conferences, unfortunately we had to cancel them. These pages remain as a memento of past events.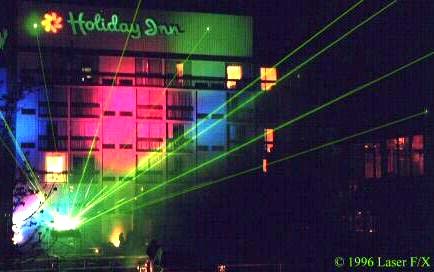 YAG laser sky-show at Laser F/X '96 - courtesy of Laser Artistry
Laser F/X: The Light Show Conference
Open House: An Open House at the Laser F/X studios where L. Michael Roberts prepares a home cooled dinner, there are plenty of refreshments, laser shows and a great opportunity to network and make contacts.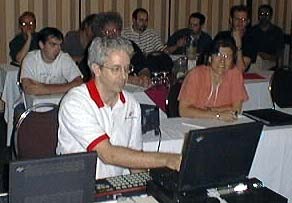 The Pangolin School at a recent Laser F/X conference
Seminars and special schools: A variety of seminars on topical subjects of interest are provided by industry experts covering topics from advances in scanner technology to making anti-matter with lasers. We usually kick things off with the "What's New" seminar in which manufacturers show of or unveil their new products and technologies.
We also offer special "schools" which focus in-depth on a particular aspect of lasers such as an audience scanning workshop or the popular Pangolin School which offers in-depths tutoring on tips and techniques to use with this popular software.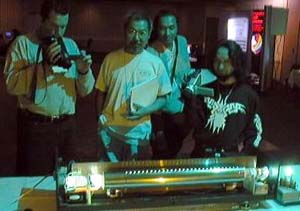 Laserists check out the new products at the Trade Show
Trade Show: A display of the technology and products used to produce laser shows as well as the opportunity to "test drive" the equipment and ask all those complicated questions you wanted answered in detail.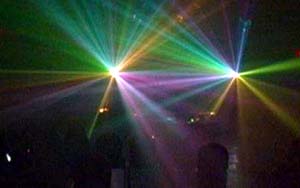 An audience scanning beam show at the Brewster Awards
Brewster Awards: A sumptuous banquet is served followed by the playback of laser shows (including audience scanning) from around the world. Past entries have come from Canada, Italy, Germany, Sweden, and the USA. All who are present at the event get to vote and the results are tallied and announced at the end of the evening.
[ Introduction | Newsletter | Handbook | Conference | Brewster Awards | Selected Links ]