Laser F/X On-line Newsletter - Special Reports

ILDA - 1998 Amsterdam Meetings
ILDA Trade Show - A
We have split the Trade Show pages into two sections so as to provide maximum coverage with minimal download times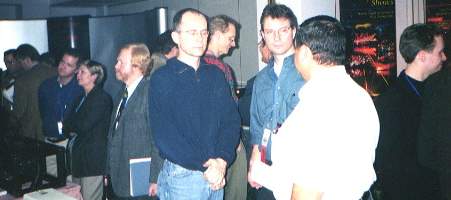 Laserists checking out the products at the Trade Show
The Trade Show is always an important part of the ILDA meeting. It allows laserists an opportunity to see the newest and latest in display and system technology and to chat in person with suppliers. There was lots to see this year though the Trade Show seemed cramped with little aisle space, even with two rooms in use.
Here is part one of an overview of the vendors and equipment on display:
PANGOLIN LASER SYSTEMS INC., (USA)

Pangolin displayed their line real-time 3D graphics software used by laser show producers to create and perform award winning shows. Pangolin also makes the CADA-MOD boards which allow ADAT tape decks to record laser signals. Pangolin had the largest booth in the Trade Show and they were bilingual with brochures in German as well as English
LASERPROMOTIONS BV (The Netherlands)

Laserpromotions showed their fully automated laser projection systems for mobile use and fixed installations in amusement parks and planetariums.
MVM ELECTRONICS INC., (USA)

MVM are manufactures PCAOMs for full colour laser graphics projectors, near video speed PCAOMs, PCAOM drivers and other Acousto-Optic and Electro-optic products.
COHERENT LASER GROUP (USA)

Coherent supplies high-power laser systems for entertainment. Comprehensive product line in argon, krypton and mixed-gas (whitelight) formats. The Verdi 532 nM laser was also on display.
MediaLas LASERPRODUCTS GmbH (Germany)

MediaLas are supplies the laser entertainment industry with CATWEAZLE scanners, galvo drivers, DPGL lasers, laser display components and the RoboLas-DMX heads. Of special interest in the booth was the microprocessor-controlled CAT-safe scan fail detection board pictured here.
HOLO-SPECTRA INC., (USA)

Holo-Spectra supplies LD graphics converter software for PC vector graphics and TrueType font conversion to laser graphics. Distributes MediaLas products in the USA and showed the Cat's Meow compact laser graphic system with internal 532 diode laser and digital projector effects.
CAMBRIDGE TECHNOLOGY INC., (USA)

Cambridge manufactures high performance closed loop galvanometer based optical scanners and drive amps - notably the award winning CT6800HP which is very popular with laserists.
CREATIVE LASER PRODUCTION (Germany)

Creative makes the LIGHTARIUM laser projection system from state-of-the-art electronics, mechanics, optics and software. Of special interest were the new multi-track circular gratings with 6 different gratings on one disk making effects selection simple.
LASER POWER CORPORATION (USA)

Laser Power manufactures compact diode-pumped solid-state lasers for display applications. The full line of 0.5W red (656 nM), 2.5W green (532 nM) and 0.4 W blue (457 nM) lasers were on display - running from wall power and air-cooled!
CAMBRIDGE LASER LABS (USA)

Cambridge has been providing quality refurbishment of ion lasers and specialising in whitelight lasers for the entertainment industry for many years. Cambridge also has an extensive stock of rental lasers - including large-frame white lights - available. Of special interest was the modest cost laser power meter on display at the booth.
NEW METHOD LASERS (USA)

NML is the manufacturer of the X29 and Full Auto laser software. NML is also a distributor of projectors and beam table components and a stockong distributor of NEOS PCAOMs and Cambridge Galvos. Their booth was very popular as they were giving away small high brightness blue and green LEDs to anyone taking Full Auto for a test drive.
CONTENTS
In order to present as many pictures as possible, we have broken this special report down into a number of pages to speed access:
SPECIAL REPORT - Introduction and Background
6 Nov - PUG MEETING
7 Nov - ATW (Advanced Technology Workshop)
7 Nov - Canal ride and Dinner (NOTE: Large page long download time)
8 Nov - Meeting, Seminars and Lase-off
9 Nov - Seminars and Awards Banquet
ILDA Trade Show - A (NOTE: Large page long download time)
ILDA Trade Show - B (NOTE: Large page long download time)
Candid Camera (NOTE: Large page long download time)
Essay: Sex and Drugs in Amsterdam
DISCLAIMER: Some of the information in the Backstage area is provided by the persons or companies named on the relevant page(s). Laser F/X does NOT endorse or recommend any products/services and is NOT responsible for the technical accuracy of the information provided. We provide this information as a service to laserists using the Backstage area.
[ Introduction | World Scan | What's New | Special Reports | Virtual Visits | General Articles | Digest ]