Laser F/X On-line Newsletter - Special Reports

ILDA - 1998 Amsterdam Meetings
ILDA Seminars and Awards Banquet
Monday morning, the conference resumed with more workshops and seminars. The Trade Show was open for laserists to browse.
Morning Sessions
A special interest group for Pangolin's Laser Show Designer users to learn more about new features introduced this past year, and what is planned for the future - conducted by Patrick Murphy of Pangolin Laser Systems in the USA.
A workshop on the use of laser animations in productions - conducted by Roelf van der Bergh of ABC LaserEvents in The Netherlands.
An open Board meeting billed as a chance to meet one-on-one with ILDA's board members and executive director Linda Hare. Not all board members were able to attend because of conference commitments so a quorum was not present for decision making purposes. In a meeting sparsely attended by members, the Board discussed a proposal to translate ILDA standards into other languages to make them more accessible to members who's first language is not English. The idea was rejected on the basis that maintaining all that information in multiple languages would be difficult.
An ILDA member had volunteered to act as ILDA's webmaster free of charge to save the organization the proposed $4000 US$/year for the updates. During the open Board meeting, it emerged that the Board had already made arrangements to hire a webmaster despite the announcement the day before that the idea was under consideration.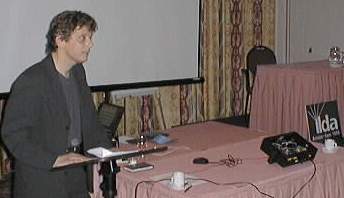 Roelf van der Bergh of ABC LaserEvents leads the artist's workshop
After the coffee break:
A special interest group discussion for those interested in learning more about the Lasergraph DSP was held. The discussion was aimed at non-users of the Lasergraph DSP and was conducted by Michael Sollinger of LaserAnimation Sollinger, GmbH of Germany.
The open board meeting continued and there were also various committee meetings.
Afternoon Session
The afternoon was devoted to the Design and Production workshop, a new feature at ILDA, moderated by Chris Ward. Show designers shared their experiences and design approaches for major productions crated world wide during 1998 and discussed there approaches to the artistic use of lasers. Presentations included:
The Pavilion of the Future at EXPO98 in Lisbon Portugal. This included 3D stereoscopic laser graphics, computer graphics and HDTV multimedia production including a computer controlled sprinkler system to simulate going underwater. One interesting feature was a long, floor mounted, mirror-covered truss used with a roof mounted scanner set to project a wave of light that swept across the audience. Presented by Chris Ward, Lightspeed Design Group, USA.

Dr. Harold Gerdes of Centrak Lasers in the USA gave a presentation on the re-dedication of the Sphinx, May 1998, in Giza Egypt. He outlined some of the technical and artistic challenges faced when working in the desert.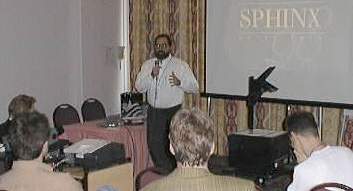 Harry Gerdes fills in members on the Sphinx production
Roelf van der Bergh of ABC LaserEvents in The Netherlands made a presentation about working on a multimedia team. The discussion covered the combination of laser graphics slides and video from an artistic point of view in reference to the Hagemayer and Suzuki presentations created by ABC.

Jose Pablo Cruz of Groupo Mundo Audiovisual discussed the show produced for the introduction of the new Volkswagen Beetle in Puebla Mexico and a corporate production for Hewlett Packard which was shown both in Lisbon and Mexico City.

Alex Henning, artistic director for LOBO of Germany, discussed E-motional - a revolving multimedia theatre which combines physical experiences lasers and multimedia technology to show man's different relations and feelings in the gap between technology and nature.

Patrick Awouters talked about the production consideration in the closing ceremony of the Youth Olympic Games 98 held in Moscow's Red Square. The production involved 140 watts of lasers, a boar, waterscreen, live control and computer graphics.
Despite the avowed intention of increasing professionalism in the industry, there was a notable lack of same in some of the presentations. Technical problems with the presentations included slides out of order and a jammed slide projector necessitating hand feeding of slides.
1998 ILDA Awards Banquet
Laserists dressed in their best gathered in the Lobby to board busses for Claus! where the banquet and ceremony took place. During a plated service dinner of salad with smoked chicken, fillet of pork with mushrooms and desert, laserists schmoosed and discussed the meeting.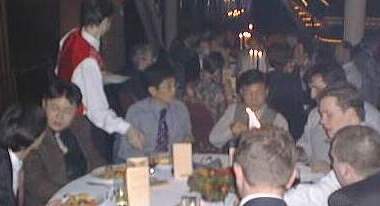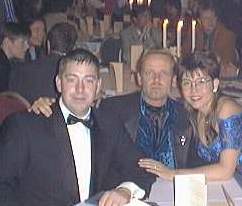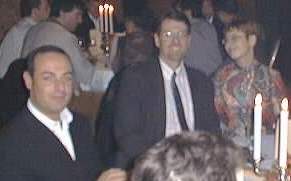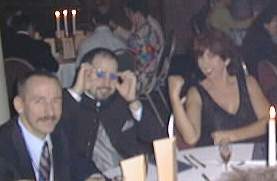 Before the formal Awards Ceremony got underway, the board of directors made some special presentations. Patrick Murphy, ILDA airspace issues co-ordinator, and Greg Makhov, chair ILDA Safety Committee, received plaques acknowledging the hard work they had put in on the airspace issue.
Host, Michel Wenzel, received a plaque and lengthy applause for his role in organising ILDA's first meeting in Europe.
| | |
| --- | --- |
| Makhov and Murphy at the podium with ILDA director Tony Zmorenski | Michel Wenzel with executive director Linda Hare |
Next came the announcement of the site for the ILDA 1999 meeting. President Chris Ward announced that Orlando had been chosen and with that, Tony Zmorenski representing Disney, Greg Makhov representing LSDI, and Patrick Murphy and Bill Benner representing Pangolin trooped on stage in Orlando T-shirts and Mickey Mouse ears hats!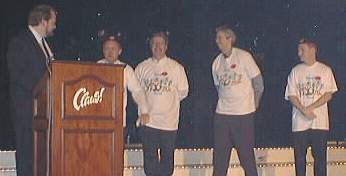 Orlando's four mouseketeers with Chris Ward
MC Steve Heminover then took over the podium to introduce the 1998 ILDA awards which opened with a special beams and graphics module set to original music created by Tim Walsh, awards committee chair.


Scene from the opening module
The 1998 ILDA artistic awards judges (L to R in photo below) were; Alexander Bresinsky, Producer, "company b" - Germany; Steven Hubbard, Production Designer, The Planning Stage - USA; Howard Ungerleider, Lighting Designer, Production Design International - Canada (Judging co-ordinator Richard Gonsalves can be seen in the background).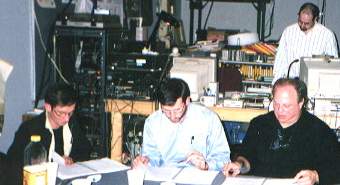 The 1998 ILDA award winners were as follows (LaserFX.com gratefully acknowledges the assistance of Patrick Murphy from the ILDA Awards Committee who provided this list):
ILDA STANDARD PROJECTOR (ISP)
These four categories take advantage of the ILDA Standard Projector format. Submissions are on ADAT tape. Judging, and presentation at the Awards Banquet, is done in laser.
ISP Beam Module
1 - "Mount Everest", AVI Imagineering With Lasers
2 - "Rock It", FFP Laser Systems
3 - "Nightmare", FFP Laser Systems
Hon. - "MC303 Beams", Laser Spectacles
ISP Graphic Animation
1 (tie) - "Dog & Pig", AVI Imagineering With Lasers
1 (tie) - "Metamorphosis", Lightspeed Design Group
ISP Graphic Module
1 - "My Way", Strictly FX
2 - "Dark and Long", Laseronics Northwest
3 - "Money", FirstLight Laser Productions
ISP Graphic and Beam Module
1 - "Godzilla", AVI Imagineering With Lasers
Hon. - "Diana", AVI Imagineering With Lasers
SHOW ELEMENTS
These three categories are for compositions that focus on one of the three primary laser show elements: beams, abstracts and graphics. Submitted on videotape.
Beams/Atmospherics
1 - "Living Lines III", tarm SLL Technik
2 - "Lobomania", LOBO electronic
Abstract
1 - "Sunshower", AVI Imagineering With Lasers
3 - "The Woof", Laser Animation Sollinger

Graphic Module
1 - "BP Convention", CoCoTec Showlaser
2 - "Yamaha", ABC LaserEvents
3 - (tie) "Enso-1", ABC LaserEvents
3 - (tie) "Konica Cebit 98", CoCoTec Showlaser
Hon. - "Just One Day", Laser Animation Sollinger


Scene from AVI's winning "Godzilla" module. The the beam and graphic module category was new for this year
PERFORMANCE
These three categories are for completed shows that combine two or more laser show elements: beams, abstracts and graphics. Submitted on videotape.
Indoor Show
1 - "Living Lines II", tarm SLL Technik
2 - "Tunnel of Love", ABC LaserEvents
3 - "Is There Life On Mercury?", LOBO electronic
Outdoor Show
1 - "Hemispheric", LOBO electronic
2 - "Natale Sotto La Madonnina", Laser Entertainment
Multimedia
1 - "Convention Sanofi: 'Aprovel' Presentation", Laser Entertainment
2 - "One Ocean", Lightspeed Design Group
3 - (tie) "Enso-2", ABC LaserEvents
3 - (tie) "Javelin Thrower", LOBO electronic
SPECIAL APPLICATION
Laser displays with a unique application or concept that do not fit easily into other categories. Submitted on videotape.
Hon. - "A Day Of A Caterpillar", LOBO electronic
FENNING AWARD FOR TECHNICAL ACHIEVEMENT
A product, software or hardware innovation worthy of recognition. Can be new products, ideas, technologies, or notable improvements in any of these areas. Submitted on video and judged separately from the above ILDA artistic categories.
The award was renamed this year to commemorate the late Frederick Fenning, who pioneered new laser display technologies and ILDA standards during his career, from 1976 until his untimely passing in 1997.
The 1998 Technical Awards Judges were; L. Michael Roberts, Laserist, Author, Laser F/X International - Canada, Tim Walsh. Laserist, Laser Spectacles - USA, and Ante Uglesic, Software Engineer, Lasscan - Slovenia. The winners were:
1 - "Showtime", Pangolin Laser Systems
2 - "Catweazle LC", MediaLas Laserproducts
3 - "LACON-5", LOBO electronic
Hon. - "DMX-Nova", Omicron Laserage Laserprodukte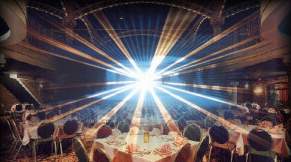 ABC LaserEvents show at Claus! Hoffddorp- image courtesy of ABC
It was a thrilling experience to see almost all of the winners presented in the original medium - lasers - including a multimedia winner with video and lasers. Only four videos were scheduled to be shown but two had to be cut due to time limitations - the event ran nearly an hour overtime.
Video tapes of all the winning entries, in both NTSC and PAL formats, are available from the Awards committee chair, Tim Walsh - a great way to spend the evening watching the best in laser displays.
CONTENTS
In order to present as many pictures as possible, we have broken this special report down into a number of pages to speed access:
SPECIAL REPORT - Introduction and Background
6 Nov - PUG MEETING
7 Nov - ATW (Advanced Technology Workshop)
7 Nov - Canal ride and Dinner (NOTE: Large page long download time)
8 Nov - Meeting, Seminars and Lase-off
9 Nov - Seminars and Awards Banquet
ILDA Trade Show - A (NOTE: Large page long download time)
ILDA Trade Show - B (NOTE: Large page long download time)
Candid Camera (NOTE: Large page long download time)
Essay: Sex and Drugs in Amsterdam
DISCLAIMER: Some of the information in the Backstage area is provided by the persons or companies named on the relevant page(s). Laser F/X does NOT endorse or recommend any products/services and is NOT responsible for the technical accuracy of the information provided. We provide this information as a service to laserists using the Backstage area.
[ Introduction | World Scan | What's New | Special Reports | Virtual Visits | General Articles | Digest ]