Laser F/X On-line Newsletter - Special Reports

ILDA - 1998 Amsterdam Meetings
1998 ILDA Trade Show - B
We have split the Trade Show pages into two sections so as to provide maximum coverage with minimal download times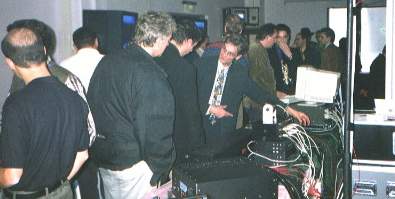 Laserists checking out the products at the Trade Show
Here is part two of an overview of the vendors and equipment on display:
HB-LASERKOMPONENTEN (Germany)

HB sells optics, lightshow components, rents out lasers, repairs and refurbishes lasers and sells used lasers. An ALC 60X whitelight doing 150 mW was on display in their booth.
LASER PHYSICS INC (USA)

Laser Physics offers a full range of air-cooled argon and while light lasers designed specifically for laser displays. The lasers are a one-piece design with power supply integrated into the head, and feature a zero maintenance sealed mirror design. Powers up to one watt running on single phase power are available.
NEOS TECHNOLOGIES INC., (USA)

NEOS manufacturers the popular 8-line and 4-line PCAOMs with driver electronics available in finished rack mount units or OEM modules. They also make complete turn keys systems for laser based video displays, 3D volumetric displays and laser micro machining centres. Of special note was the new anti-blooming optical system for using their PCAOMs with higher power lasers that was introduced at ILDA. It was demonstrated in the booth with a Sabre laser.
LIGHTING SYSTEMS DESIGN INC., (USA)

LSDI does custom displays/shows and also manufacturers the Turbo Track scan amps, Universal Geometric Corrector and high-performance laser projectors. A multi-head 'cascade ' projector was on display in the booth. Sharing the booth with LSDI was Lee Lasers who offer high power 532 nM lasers.
MDG FOG/SMOKE GENERATORS (Canada)

MDG makes the popular line of MAX smoke machines available in sizes suitable for any venue from small rooms and clubs up to giant arenas and football stadiums. They also manufacture the Atmospheres which produces an ultra-fine and long lasting haze that is perfect for laser beam shows.
LaserAnimation Sollinger (Germany)

Laser Animation manufacturers the Lasergraph DSP workstation with real time 3D projections in full colour. They also manufacture high-end scanner drivers and PCAOM electronics. Their booth was a popular spot running graphics shows and beam shows continuously (which accounts for all the haze in the picture).
B & W TEK (USA)

B&W is a manufacturer of diode pumped solid-state semiconductor blue, green, red and infrared lasers and laser optics and drivers.
SPECTRA PHYSICS LASERS BV (Netherlands)

Spectra Physics has a full range of lasers for entertainment, scientific and industrial markets. Entertainment lasers are available from 3.5 to 15 W whitelights; 1.5 to 7 W Kryptons; 5-30 W argons and 2-10 W 532 diode-pumped lasers.
Lasscan (Slovenia)

Lasscan offers laser show production and laser display equipment rentals. They also offer DMX/midi live control systems, laser display related software, embedded laser display playback units and water screens. They were displaying their new hardware control console that works with Pangolin's Live! show control software.
LIGHT DESIGN GmbH (Germany)

Laser Design displayed a new graphics software system that offers many features laserists are familiar with as well as Lasergraph DSP-like features.
LASER SYSTEMS EUROPE (Belgium)

Laser Systems Europe is a producer of large-scale shows/events and also sells and rents laser equipment to other laser companies. They also showed their new geometric corrector which includes on-board storage of test patterns for projector alignment
CONTENTS
In order to present as many pictures as possible, we have broken this special report down into a number of pages to speed access:
SPECIAL REPORT - Introduction and Background
6 Nov - PUG MEETING
7 Nov - ATW (Advanced Technology Workshop)
7 Nov - Canal ride and Dinner (NOTE: Large page long download time)
8 Nov - Meeting, Seminars and Lase-off
9 Nov - Seminars and Awards Banquet
ILDA Trade Show - A (NOTE: Large page long download time)
ILDA Trade Show - B (NOTE: Large page long download time)
Candid Camera (NOTE: Large page long download time)
Essay: Sex and Drugs in Amsterdam
DISCLAIMER: Some of the information in the Backstage area is provided by the persons or companies named on the relevant page(s). Laser F/X does NOT endorse or recommend any products/services and is NOT responsible for the technical accuracy of the information provided. We provide this information as a service to laserists using the Backstage area.
[ Introduction | World Scan | What's New | Special Reports | Virtual Visits | General Articles | Digest ]