Laser F/X On-line Newsletter - Special Reports


2000 Brewster Awards
The evening started with cocktails followed by a sumptuous gourmet buffet. On the menu; Tossed baby greens with assorted dressings, marinated baby shrimp, seafood and julienne of vegetables, waldorf salad, German potato salad, tomato and cucumber salad, pasta salad and marinated whole mushroom salad. There were decorated platters of petite fillets of smoked mackerel and rainbow trout, platters of turkey, black forest ham, roast beef and salami, peppercorn pate and devilled eggs. The hot entries consisted of carved roast top sirloin of beef au jus, Lasagna bolognese, honey garlic back ribs served with fresh market vegetables, oven roasted potatoes and steamed rice pilaff. This was followed by a Sweet Table which included cheese with fruit, fresh fruit tarts, cheesecake with assorted toppings, assorted pastries, apple pie and cakes with an emphasis on chocolate!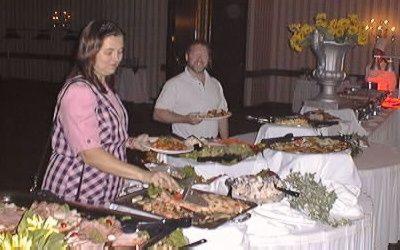 Frank and Kelly Plughoff of Full Spectrum Lasers were unable to attend due to work commitments but sent along their complements in the form of sponsoring the wine service for the Brewster Awards. Special thanks to Full Spectrum Lasers!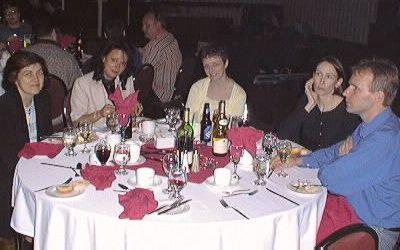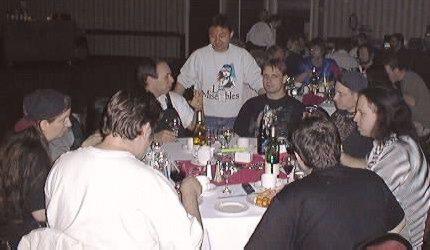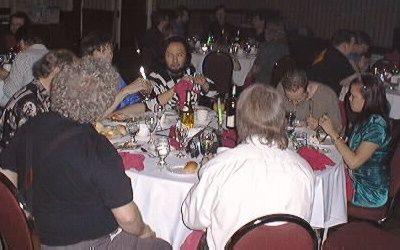 Laserists, guests and members of the public enjoy the Brewster Awards dinner
After dinner, playback of the entries in the Brewster Awards commenced. This year we had only 4 graphics modules entered so we decided to award only a first and second place to keep the competition fairer. There were 11 beam modules entered into the awards. Entries came from Germany, the USA and Canada.

Photo by Karl Rothweiler
The entries were all of high quality although interestingly, some of the graphics modules used machine generated effects rather than the more traditional cell and object animation.
In between the playback of each module, the lights were raised so that those in attendance could make notes on their ballots as reminder for when the voting took place. Ballots were collected and tallied after the playback was completed in each category.
The winners in the 2000 Brewster Awards for graphics were:
First: Striptease by Dirk Baur of MediaLas Germany

Second: Deadline by Rob Mudryk and Matt Polak
These winners represented a departure from the types of shows we usually see. Rather than many hand drawn animation frames or 3D objects, these shows used VST and LVS (a WinAmp plug-in) to create many of the effects seen on screen. These new tools can be used with conventional animation and 3D techniques to make shows that are more creative and visually interesting but also less tedious to create.
Comments and Technical info on the second prize winner "Deadline"
Rob Mudryk: "Automation... where before everything was a mundane task of making frames.. and effects... this is a new beginning where the machine is taking control of the tedious tasks leaving more time to create..."
Matt Polak: "I think we're simply seeing some new features and ideas (LVS, VST) being put to use in ways that no one has tried before. We're able to take some of the more complicated effects which would normally be extremely time-consuming to do by hand, and simply let the computer chug away at it. I think in the end it still comes down to the creative application of these results to produce an enjoyable show. If we let the computers take over all of the decisions, everything is going to start looking the same very quickly. There is only so much variation that can come from the digital realm and these great new utilities; it still takes a great amount of personal creativity and though in order to successfully apply it."
Technical info: The computer was a P2/350 running win95 and LD2000, as the core... used winamp 2.6 with a test version of LVS (Laser Visualization Studio) written by Nullsoft, the creators of Winamp, and a additional Add-in made by Rob Mudryk. We used a pallet of the full 16 Million Colour Pallet for fading... the software was written totally in less than 7 days, the effects were created over a period of 3 months, and the show compiling, producing, editing and recording took 30 minutes, which included a test playback.
The winners in the 2000 Brewster Awards for beams were:
First: Astrae by Karl Rothweiler

Second: Reflections (short cut) by Holger Walter of HW Lasertechnik

Third: Bingo Bongo by LOBO
Thanks to all who entered and helped make the awards both exciting and entertaining.
Quick Links to Report Pages
In order to present as many pictures as possible, we have broken this special report down into a number of pages to speed access. Most of these are large pages with many images so please be patient while they download.
Laser F/X 2000 Report - Introduction and background
Friday 19 May - Behind the scenes
Saturday 20 May - The Pangolin School and Open House
Sunday 21 May A - Seminars
DMX Seminar Handout - By Bill Benner
Sunday 21 May B - Brewster Awards
Monday 22 May - Trade Show and LaserFest
Candid Camera - A selection of 12 photos (very large page)
DISCLAIMER: Some of the information in the Backstage area is provided by the persons or companies named on the relevant page(s). Laser F/X does NOT endorse or recommend any products/services and is NOT responsible for the technical accuracy of the information provided. We provide this information as a service to laserists using the Backstage area.
[ Introduction | World Scan | What's New | Special Reports | Virtual Visits | General Articles | Digest ]