Laser F/X On-line Newsletter - Special Reports


Behind the scenes
Friday 19 May 2000
A conference of this nature takes a lot of time and effort to put together and relies on volunteer help to get everything done. Friday night was devoted to the tasks of cutting and laminating badges... folding and stapling programs... stuffing goodies bags... compiling Brewster Award entries onto a single ADAT tape to simplify presentation... and a myriad of other tasks needed to make the conference run smoothly.
Special thanks go to Karl Rothweiler, Mark Schweter, Rob Mudryk, Matt Polak, Ken Suzuki, Ian Wood, Derek Garbos and Bill Benner who all pitched in and helped out.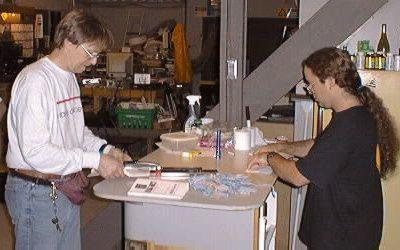 Mark and Karl laminating badges and folding conference programs
| | |
| --- | --- |
| Stack of ADATs and scope used to prepare the Brewster Awards master tape. A compilation tape made playback at the awards simple! | A couple of laserists were to be found hiding in corners of the studio putting finishing touches to their Brewster Award entries. |
Saturday 20 May 2000
Setting up and testing all of the laser, sound and lighting equipment for the laser theatre on Saturday night after the Open House is always a big job that takes the production crew until the wee hours to complete!
| | |
| --- | --- |
| Mark tunes the sound system for perfect playback using a real time analyser while Ken looks on | Rob sets up ADATs and a scope so that tapes could be cued and ready for playback. |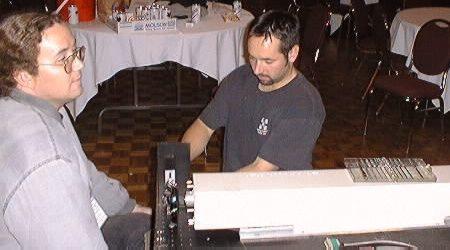 Derek sets up the New Wave Lasers projector while Karl kibitzes.
Quick Links to Report Pages
In order to present as many pictures as possible, we have broken this special report down into a number of pages to speed access. Most of these are large pages with many images so please be patient while they download.
Laser F/X 2000 Report - Introduction and background
Friday 19 May - Behind the scenes
Saturday 20 May - The Pangolin School and Open House
Sunday 21 May A - Seminars
DMX Seminar Handout - By Bill Benner
Sunday 21 May B - Brewster Awards
Monday 22 May - Trade Show and LaserFest
Candid Camera - A selection of 12 photos (very large page)
DISCLAIMER: Some of the information in the Backstage area is provided by the persons or companies named on the relevant page(s). Laser F/X does NOT endorse or recommend any products/services and is NOT responsible for the technical accuracy of the information provided. We provide this information as a service to laserists using the Backstage area.
[ Introduction | World Scan | What's New | Special Reports | Virtual Visits | General Articles | Digest ]