Laser F/X On-line Newsletter - Special Reports


Seminars
08:45 to 09:45 - Breakfast - Holidome
A breakfast with orange juice, freshly baked "Belgian" waffles, Canadian maple syrup, whipped cream, butter and fresh berries with Coffee, Tea or Milk was the first thing on the agenda getting everyone off to a good start. The first event of the day was the "What's New" Seminar.
10:00 to 11:00 - Seminar 1A - What's New
The first half of the seminar was devoted to a technical overview of new technologies and products in the market.
Pangolin Laser Systems' Bill Benner gave a presentation on the new LD2000 which uses a completely re-designed PCI slot interface card. The card features fully ILDA compatible DB25 output connector and a second DB9 connector which is supplied with an adapter cable terminating in a 5 pin XLR connector for DMX output.
Improvements to the software include a library of "intelligent" lighting fixtures that can be dropped onto the Showtime timelines and treated exactly like laser frames with movement, colour changes, fades etc. This allows the LD2000 system to control not only a full colour laser projector, but a DMX based lighting system!
Bill also discussed the Lasershow Player model CD2OOO playback device. This is a standalone CD player plus a QM2OOO hardware board, nicely packaged with buttons and a 16 LED readout to make playing laser shows as simple as playing audio CDs. One nice feature is that because the Lasershow Player has a QM2OOO board, it can offer full-quality laser outputs as well as full CD-quality stereo audio.

Dirk Baur of MediaLas in Germany presented the new CatSafePro scan fail detector. Based on an idea from L. Michael Roberts, this board incorporates all of the safety features of the CatSafe board but in a new comprehensive and easy to interface format. Colour information is output on a NEOS compatible connector and the safety shut down of the colour is internal to the board so that external circuitry is not required.
Dirk also showed and discussed the new MicroAmp scanner drive board deigned to drive CTI galvos, the board has a very small footprint making it idea for projectors where space is limited.
O. Steven Roberts talked about low cost actuators pulled from EEG systems that were suitable for use in beam tables. He had brought a sample to show, but it was unfortunately destroyed when it was reverse engineered by a group of laserists just prior to the Open House.
11:00 to 12:00 - Seminar 1B - Ask the Experts
Three noted experts on scanning systems, Dirk Baur of MediaLas (CATWEAZLE scanners), Phil Barrows of Cambridge Technology (CTI scanners) and Bill Benner of Pangolin Laser Systems (TurboTrack and True 50K scanners) led an interactive discussion of scanning system technology and issues. Moderated by L. Michael Roberts.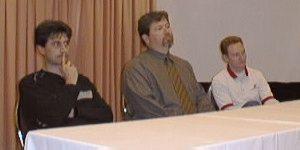 Scanner experts field questions
12:10 to 13:15- Seminar 2 - Creative Seminar
Kelly Alan Sticksel of Magic Fire Lasershows in Texas led an interactive discussion on creative ideas and issues in laser show production and planning. He discussed the use of fireworks to enhance laser shows and his use of high power, colour changing, xenon lights to create "layered" effects, or to substitute for audience scanning.
Kelly also showed one of the compact racks he uses to control shows which include time code reading equipment to synchronise the laser show and fireworks with the soundtrack.
13:30 to 14:45 - Brunch in the Holidome
A lavish buffet brunch with assorted chilled juices, sliced fresh seasonal fruit, danish and muffins, croissants and banana bread, toasted bagels with cream cheese, assorted cereals; decorated platters of turkey, ham roast beef and salami; tossed baby greens, potato salad, pasta salad; carved roast top sirloin of beef, beef stroganoff, fresh market vegetables, broad noodles and a selection of deserts with coffee and tea left everyone satisfied!
15:00 to 16:30 - Seminar 3 - DMX for Dummies
Bill Benner of Pangolin Laser Systems, chair of the ILDA tech-Com, and one of the drafters of the ILDA DMX standard, presented an informative seminar. Bill covered all of the basics of what the DMX protocol is and it's background, how the DMX protocol works, and how it can benefit laserists.
Bill was kind enough to allow us to publish the handout he provided at the seminar. Click DMX Seminar Handout to see the page.
16:30 to 17:00 - Milk and cookies break in the Holidome
Courtesy of FirstLight Laser Productions, conference goers enjoyed a variety of delicious freshly baked cookies complemented by white and chocolate milk.
17:00 to 17:30 - Seminar 4 - Making Antimatter with Lasers
Professor Eric Hessels graduated with a PhD from the University of Notre Dame in 1990 and is a professor in the Department of Physics and Astronomy at York University. He gave us a fascinating and entertaining explanation of his experiments in which he uses Copper Vapour lasers in the process of creating antimatter.
Abstract:
Recent advances have allowed researchers at Harvard University to capture and cool large numbers of antiprotons and antielectrons (positrons). It is the aim of that group to combine these antiparticles to form antihydrogen. Schemes for producing cold antihydrogen atoms out of the cold antiparticles were discussed, including a scheme developed at York University. The antihydrogen atoms could be trapped in a magnetic field, which would allow them to be held for a long period of time and would allow for precision study of the antiatoms.
On a humorous note, Prof. Hessels explained that he was attracted to this line of research as it was extremely challenging and expensive to pursue.
17:40 to 18:10 - Seminar 5A - Resonator walking and laser tuning
Derek Garbos of New Wave Lasers led this small group workshop to cover the basics of finding beam and peaking the resonator for maximum laser output.
17:40 to 18:10 - Seminar 5B - CatWeazle Scanner Workshop
Dirk Baur of MediaLas led this small workshop on the inner workings, tuning and maintenance of the CATWEAZLE scanners.
Quick Links to Report Pages
In order to present as many pictures as possible, we have broken this special report down into a number of pages to speed access. Most of these are large pages with many images so please be patient while they download.
Laser F/X 2000 Report - Introduction and background
Friday 19 May - Behind the scenes
Saturday 20 May - The Pangolin School and Open House
Sunday 21 May A - Seminars
DMX Seminar Handout - By Bill Benner
Sunday 21 May B - Brewster Awards
Monday 22 May - Trade Show and LaserFest
Candid Camera - A selection of 12 photos (very large page)
DISCLAIMER: Some of the information in the Backstage area is provided by the persons or companies named on the relevant page(s). Laser F/X does NOT endorse or recommend any products/services and is NOT responsible for the technical accuracy of the information provided. We provide this information as a service to laserists using the Backstage area.
[ Introduction | World Scan | What's New | Special Reports | Virtual Visits | General Articles | Digest ]