Laser F/X On-line Newsletter - Special Reports


Candid Camera
Here is a page of photos of some of the more candid and fun moments at Laser F/X 2000, with (sometimes playful or irreverent) comments, all for your enjoyment.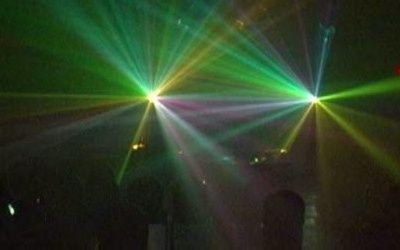 Laser shows and more laser shows!! Photo: Matt Polak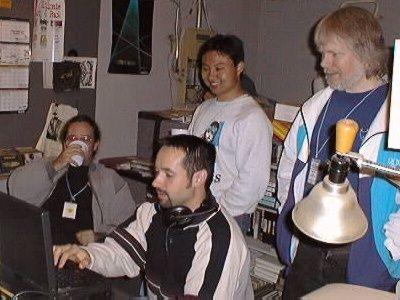 When I push this key... the client's cheque is instantly cashed!
| | |
| --- | --- |
| Hmmmm... that EKG does NOT look very good | Broken CVL tubes can be recycled! |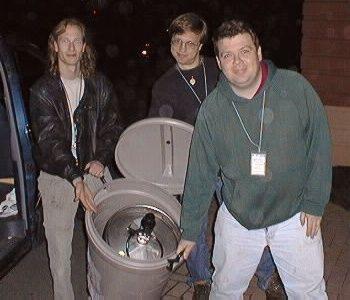 Sneaking the keg of "laserist coolant" into the hotel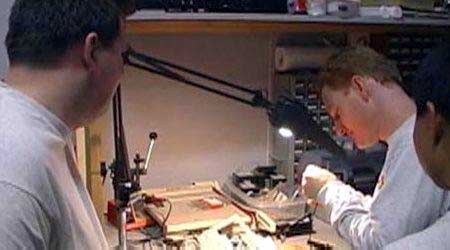 Wow! Look at all the pretty wires they have crammed in here! Photo: Matt Polak
| | |
| --- | --- |
| The accounting firm of Polak and Wood tally the Brewster ballots. | "My brain hurts!!!" |

Actually... Mine is this big.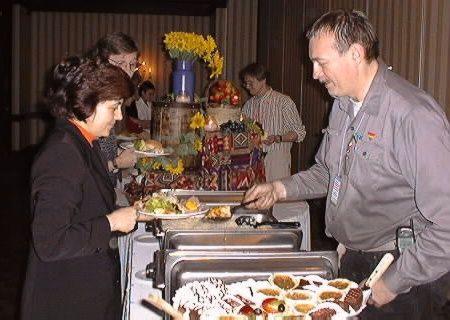 Did you want to super-size your order Ma'am?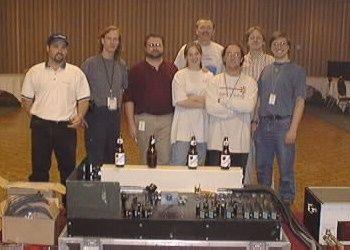 Official crew photo
(L to R Front): Derek Garbos, Ian, Rob Mudryk, Michele Mudryk, Karl Rothweiler, Matt Polak.
(L to R Back): L. Michael Roberts, Mark Schweter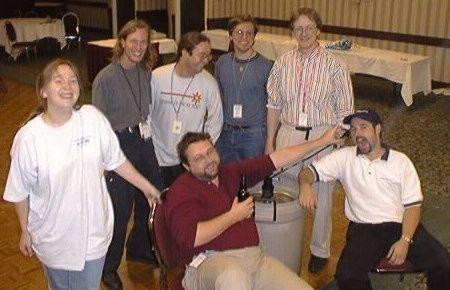 Trying to empty the keg down the nearest drain!
Quick Links to Report Pages
In order to present as many pictures as possible, we have broken this special report down into a number of pages to speed access. Most of these are large pages with many images so please be patient while they download.
Laser F/X 2000 Report - Introduction and background
Friday 19 May - Behind the scenes
Saturday 20 May - The Pangolin School and Open House
Sunday 21 May A - Seminars
DMX Seminar Handout - By Bill Benner
Sunday 21 May B - Brewster Awards
Monday 22 May - Trade Show and LaserFest
Candid Camera - A selection of 12 photos (very large page)
DISCLAIMER: Some of the information in the Backstage area is provided by the persons or companies named on the relevant page(s). Laser F/X does NOT endorse or recommend any products/services and is NOT responsible for the technical accuracy of the information provided. We provide this information as a service to laserists using the Backstage area.
[ Introduction | World Scan | What's New | Special Reports | Virtual Visits | General Articles | Digest ]