Laser F/X On-line Newsletter - Special Reports


Pangolin School and Open House
Pangolin School
The first event of the day was the Pangolin School, with Bill Benner. There were two sessions, beginner/intermediate in the morning, and intermediate/advanced in the afternoon. Rather than formal presentations, the Pangolin users present were encouraged to ask questions and discuss issues about the software and hardware that were important to them.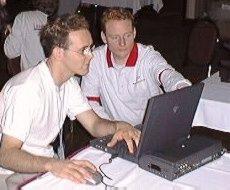 Bill Benner gives some one-on-one instruction at the Pangolin School
Open House
Saturday evening Michael Roberts welcomed laserists to his studio for registration followed by a home-cooked meal at the Open House. The menu had an Italian theme with pasta and salads and the buffet tabel was decorated with pasta, grapes and a wine bottle. Unfortunately the weather did not co-operate this year and it was chilly, so most people stayed indoors to smooze and discuss lasers.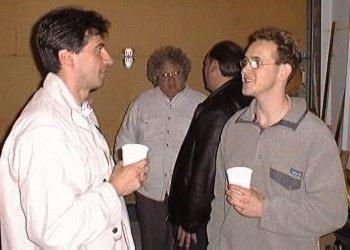 Laserist's heaven - drinking beer and talking shop!
| | |
| --- | --- |
| The Laser F/X conference is a family affair! | Proud papa! |
| | |
| --- | --- |
| Mariana Gogheva-Marazova and Elmira Todorova joined us from Bulgaria. | Laserists comparing notes and ideas on music for laser shows |
After dinner, the Spectronika CV laser was set up with projector, controllers and a small sound system in the parking lot. Laserists bundled up and ventured outdoors to play with the system and experiment with the effects. The laser is so bright that it was clearly visible in the cool breezy parking lot, with no smoke machine, even when standing under a 1,000 watt sodium vapour security light!
| | |
| --- | --- |
| Spectronika CV laser and Projector in the chilly parking lot | Laserists try their hand at performing beam effects live with the CV system |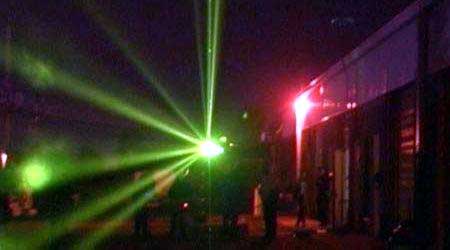 Fan effects projected from the Spectronika CV laser in the parking lot.
Photo: Matt Polak
After the party ended, the crew assembled the equipment needed and transported it over to the hotel to set-up the Laser Theatre and prepare for the Sunday seminars and Brewster awards.
Quick Links to Report Pages
In order to present as many pictures as possible, we have broken this special report down into a number of pages to speed access. Most of these are large pages with many images so please be patient while they download.
Laser F/X 2000 Report - Introduction and background
Friday 19 May - Behind the scenes
Saturday 20 May - The Pangolin School and Open House
Sunday 21 May A - Seminars
DMX Seminar Handout - By Bill Benner
Sunday 21 May B - Brewster Awards
Monday 22 May - Trade Show and LaserFest
Candid Camera - A selection of 12 photos (very large page)
DISCLAIMER: Some of the information in the Backstage area is provided by the persons or companies named on the relevant page(s). Laser F/X does NOT endorse or recommend any products/services and is NOT responsible for the technical accuracy of the information provided. We provide this information as a service to laserists using the Backstage area.
[ Introduction | World Scan | What's New | Special Reports | Virtual Visits | General Articles | Digest ]