Laser F/X On-line Newsletter - Special Reports


Trade Show
Cambridge Technology Inc
Martina Casey - mcasey@camtech.com
109 Smith Place, Cambridge, MA USA 02138
Tel: 617-441-0600 Fax: 617-497-8800
http://www.camtech.com/

Cambridge Technology offers the most extensive line of closed loop galvanometer based optical scanners commercially available today! Whatever your application, Cambridge Technology has several price/performance options available to you. Our diversity of product and performance has enabled Cambridge Technology to become a recognized technology leader in laser show scanning systems.
Cambridge showed their new 6210 scanners which are much smaller than the popular 6800HP scanners, and are said to be significantly faster.
Laser F/X and Spectronika
L. Michael Roberts
http://www.LaserFX.com

Laser F/X was showing copies of the ever-popular "Laser F/X: The Light Show Handbook" at their table.

Spectronika manufactures low cost air-cooled copper vapour lasers ideal for clubs and outdoor events. The pulsed Copper Vapour laser has a manufacturers suggested price of $7,000 US$ (ex-works) and runs for 600 - 650 hours before a simple low cost tube replacement is required. Replacement tubes cost $1,700 US$ (ex-works) - tube replacement takes about an hour.
MDG Fog & Smoke
Marc Gringras
5639 Christoph Colomb, Montreal, Quebec Canada H2S 2E8
Tel: 514- 272-6040 Fax: 514-722-3229
http://www.mdgfog.com/

MDG offers a range of fog/smoke generators that are ideal for laser applications. Our units can provide an even haze with long "hang time" perfect for laser beams in venues ranging from small rooms and halls to vast stadiums.
Our award-winning Atmosphere unit is ideal for corporate events where unobtrusive and unnoticeable haze is required.
MediaLas Laserproducts GmbH
Dirk Baur - info@medialas.com
Neue Rottenburger Str. 37, DE-72379 Hechingen Germany
Tel: +49-7471-91661
http://www.medialas.de
MediaLas is a manufacturer and distributor of professional laser show products. From our award winning 30K Catweazle LC scanners, to our plug & play Catweazle Pro displays, we offer scanning solutions to meet your needs at very reasonable prices. We also supply a full line of DPSS diode lasers, fibre optics components and systems, our CatSafe scan fail detection boards and many other optomechanical components to meet your laser show needs.

MediaLas showed the new CatSafe scan fail detection system (pictured at left) which features NEOS compatible DB25 colour signal output with internal PCAOM shut down in the event of scan failure.
ILDA standard input with integrated connectors for use with both CTI scanners and Catweazle scanners make this board very simple to install and use.
New Method Lasers Inc.,
Bob Ash
10530 - 72nd St. N., #706, Largo, Florida USA 33777
Tel: 813-545-0376 Fax: 813-547-1760
http://www.laser-light-show.com

Manufacturer and wholesale distributor of laser light show equipment. Products include beamtable components, Full-Auto and X29 laser controllers, new and used laser systems, Cambridge scanners and NEOS PCAOMs.

Bob Ash was unfortunately unable to be at the conference due to last minute scheduling problems. He sent literature on the new Eye Magic scanners that are said to do 30K PPS at 54 degrees and up to 50K PPS at smaller angles. The scanners are also available with large mirrors (up to 8mm X 16mm) and an optional X/Y/Blanking mount.
Pangolin Laser Systems
Patrick Murphy - mail@pangolin.com
771 South Kirkman Road, Suite 113, Orlando, Florida USA. 32811
Tel: 407-299-2088 Fax: 407-299-6066
http://www.pangolin.com

Pangolin makes the world's most popular laser show software for professional use, Lasershow Designer for Windows. LD has won more industry awards (ILDA and Laser FX/Brewster), and is used to create more award-winning shows (1997-2000) than any other laser show software. LD is powerful yet easy to use, making it the best value in laser show software. New for 2000 is LD2000

On display was Pangolin's LD2000 system offering a PCI slot based interface, full ILDA standard DB25 output and DMX output to control ILDA DMX Standard laser projectors as well as other DMX devices.
Matthews Technological Machining
Phillip Matthews
Unit # 4, 41 Courtland Ave., Concord, Ontario Canada L4K 3T3
Tel: 905-669-9210 Fax: 905-669-4109

Matthews Technological Machining is an Ontario Corporation providing laser light system platforms, and modular, interchangeable opto-mechanical components and assemblies to the laser show industry.
MTM was showing a modular expandable projector system. The design features modular sections of beam table with 5 outputs each, a grating module with two outputs. The modules are made in standard sizes and are interchangeable in a mix-and-match fashion. A full complement of modules can be configured to meet the ILDA standards for a DMX controlled ISP. This allows a laserist to start out small and add more modules and effects as time and budget permits.
PPrometheus Photonics
Karl Rothweiler
4331 E. Western Star Blvd., Phoenix, Arizona USA 85044
480-345-6540

Prometheus Photonics showed their OptiKlenz kit which contains a complete range of cleaning materials for laser maintenance and a new OptiAid kit. The OptiAid is a small version with basic cleaning supplies designed to be put in a toolbox or in the laser case for on-site laser and projector optics cleaning.
Scanner Rodeo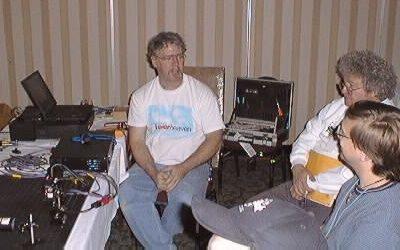 Greg Makhov of LSDI answering questions during the Scanner Rodeo
Greg Makhov of Lighting Systems Design, Inc. was delayed by installation commitments so the Scanner Rodeo was moved to the Trade Show rather then being presented as a seminar. This proved to be a popular move as participants had more time to interact with Greg and to have him answer complex questions with live demonstrations. Greg set up side by side comparisons of different types of scanning systems using the same graphics signals. Participants were able to see and compare for themselves the performance of various types of high speed scanning systems.
LaserFest
After some free time, laserists again convened in the Halton A & B Halls for the LaserFest. An excellent buffet dinner was complemented by a wine service Sponsored by Pangolin Laser Systems.
After the dinner, our guest laserist, Kelly Sticksel, showed a selection of his works with commentary on the creative aspects of the shows.

Kelly Sticksel is the founder of Magic Fire LaserShows, a Dallas, Texas based laser entertainment company. Established in 1997, Magic Fire has grown at a dramatic clip and now maintains an impressive clientele that includes several Fortune 500 companies and municipalities across the country. Magic Fire is also the founding member of the North American Laser Entertainment Group, an elite group of laser entertainment and hardware support companies located around the country who share Magic Fire's commitment to excellence and customer service.
Additionally, Magic Fire has established strategic partnerships with several entertainment companies that enable Magic Fire to provide its clients with full production services that include indoor and outdoor pyrotechnics, traditional and intelligent lighting, concert sound and staging and complete event production. Magic Fire has become a one-stop shop for event conception and production.
Kelly Sticksel was born and raised in Dallas, Texas. He developed his interest in lasers during middle school physics classes and quickly become a laser hobbyist. Although his career took him into the banking industry, his laser bug began to grow, fuelled by annual visits to Paramount's touring Pink Floyd laser show and repeated visits to Laserium shows in Los Angeles and San Francisco.
Unhappy behind the desk, Kelly began assembling a group of investors who shared his ideals and believed in the Magic Fire concept. These professionals, including senior marketing executives from Intel Corporation and Frito-Lay, would later become Magic Fire's Board of Directors. In March of 1999, Sticksel retired from the banking industry as a result of growing business at Magic Fire. The concept of a "professional" laser company, run by experienced and established business leaders had proven quite successful and the business had taken off with vigour. That first nine months of business culminated in five large-scale outdoor pyro/laser/light spectaculars around the country on New Years Eve to celebrate the coming of the new millennium.
After Kellys's video and laser presentation, a variety of laser modules were played back from ADAT for the enjoyment of all Including some favourites from years gone by, and last year's Brewster Award winners. The party broke up around 01:00 and the crew set about tearing down and packing the systems.
Quick Links to Report Pages
In order to present as many pictures as possible, we have broken this special report down into a number of pages to speed access. Most of these are large pages with many images so please be patient while they download.
Laser F/X 2000 Report - Introduction and background
Friday 19 May - Behind the scenes
Saturday 20 May - The Pangolin School and Open House
Sunday 21 May A - Seminars
DMX Seminar Handout - By Bill Benner
Sunday 21 May B - Brewster Awards
Monday 22 May - Trade Show and LaserFest
Candid Camera - A selection of 12 photos (very large page)
DISCLAIMER: Some of the information in the Backstage area is provided by the persons or companies named on the relevant page(s). Laser F/X does NOT endorse or recommend any products/services and is NOT responsible for the technical accuracy of the information provided. We provide this information as a service to laserists using the Backstage area.
[ Introduction | World Scan | What's New | Special Reports | Virtual Visits | General Articles | Digest ]